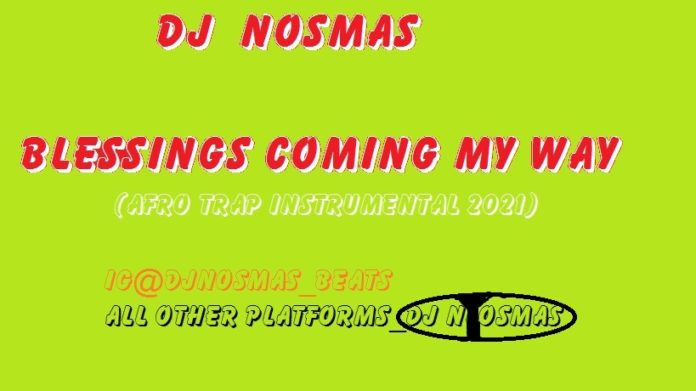 Worldwide Talent Contest
#Welcomebackdjnosmas(Nigeria/Africa)
DJ Nosmas who has been the Most Searched Free Beat Maker in the World Since 2019, has been offline for 2years.
but just few months in 2021, he came back fully into the Entertainment, this time he decided to focus on his Music Career
more than just making beat, as we all know DJ Nosmas is term the Most Talented Disk Jockey Alive Today.
As he Can do everything Entertainment, from making beats, to editing and Mixing Video, singing/Rapping, e.t.c
Starts the 1st All Talent Entertainment Club simply because he is Multi Talented and he can also do it all.
How To Contest(Worldwide)
1. Go to Instrumentals.com.ng search "DJ Nosmas" or "Ace DJ Nosmas" Download any Of his beat that you wish, he has 60+ Fire Free beats in the Site.
After Downloading whatever Talent you have showcase it o it.
2.Send your info stating your Artiste name, Age, Location, and Picture to the WhatsApp +2349096905160
Anything that you do to the beat will be Produced for you classical and a 1minutes Video too will be Produced for you
to be put on Youtube, Instagram, Whatsapp, Facebook, Twitter, Audiomack, NairaLand we will send the Video to you too SO you
can use the hashtag #Welcomedjnosmasback we will both upload it.
Tell your Friends and Fans to Vote you, Like your Post and Comment, because Winner will be determined by the Most Viewed
when the deadline comes.
Important Notice: Before participating please make sure you have followed Ace DJ Nosmas on Youtube, Instagram, Facebook, Twitter
and Audiomack, its not necessary you follow on all handle, but be sure to follow on ig.
We are Nosmas Entertainment Club(NEM)we newly Started this overall Entertainment Club which means you will be in the Club
with which ever Talent you have.
20 People will be Signed to Nosmas Entertainment Club
but the 3rd Runner up will have a chance to Feature DJ Nosmas on a Track(Google Most Talented DJ 2021)
And the 2nd Runner uP will feature him in a Track and also get to Win the Sum of 10,000
And the 1st Runner up will feature him in a Track and also get to win the sum of 30,000
The Deadline of the Show will be Determined by him so ,make sure u follow him.
[email protected]_beats
[email protected]_nosmas
Fb_DJ Nosmas
Good Luck!