Hello,
Are you a Music Producer Or Sound Engineer Based In Nigeria or Abroad?
Would You Like Us To Promote You On Our Website For a Month?
We Would Put Your Profile Pictures, Relevant Informations and Contact Details on Our Website as seen Below.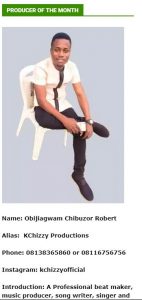 You Can Enjoy This Benefits as Your Brand Would Be Visible to To Our Millions of Users.
And People Can Contact You For Business Purposes.
For Just #3,000 Naira, We would Make You Our Producer Of The Month.
Send Us a Mail To [email protected] or whatsapp 07053715337